SPECIAL: SEPTEMBER JUMP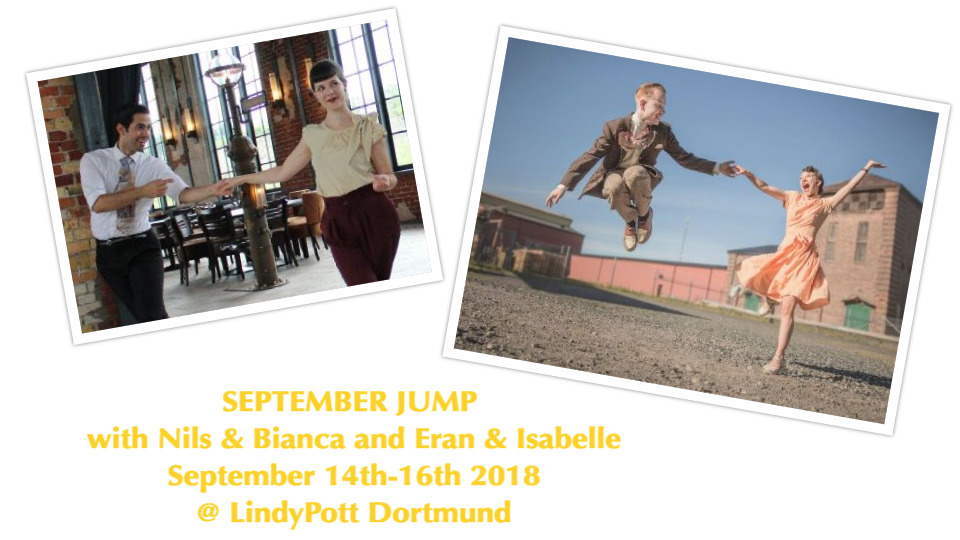 * up to 13,5 hours of Lindy Hop with our talents:
Isabelle Jaschke & Eran Tobi
* Friday Specials, Weekender Workshop or just combine as you wish!
* Two crazy parties with all the Swing cats from the Ruhr area !
* The sound of the awesome band The Sweet Simones from Munich!
****************************WE WANT YOU! YES, YOU EXACTLY, TO REGISTER NOW ;) !****************************
We have only a couple of free spots left for the workshop:

Boogie Woogie for Lindy Hoppers: 1 Lead, 3 couples
A Day at The Races Fun Moves: 6 Leads, 3 couples
Variations in the Pass-by: 3 Leads, 4 couples
Play-A-Way with Break-Away: 2 Leads, 4 couples

Level A: 3 Leads, 7 couples
Level B: 2 Leads, 5 couples
Level C: 3 couples
Level D: 2 Follows, 4 couples